Mobile
E-Concierge Service

for UK Hotels
Transform the way you serve your guests with a state-of-the-art concierge application for your hotel.
There once was a time when accessing your hotel's concierge service meant guests had to either pick up the phone or make their way to reception, putting a higher demand on your front-of-house staff.
Now, thanks to our partnership with industry-leading hotel e-concierge application LoungeUp, you can empower your staff to deliver a more efficient service by allowing guests to access the services they need, when they need them, all via their iOS, Android, or Amazon smartphone or tablet, or any device with Internet capability.
This complete hotel E-concierge solution comes with flexible payment solutions, ongoing support and regular maintenance, and with plans tailored to suit both the needs of your guests at the services your hotel provides.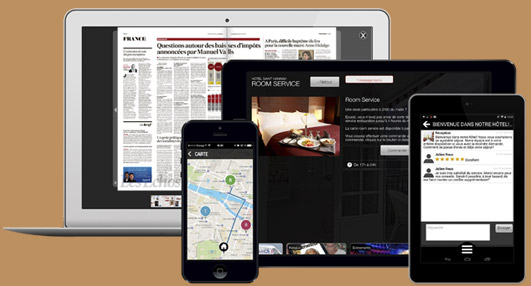 Mobile Hotel E-Concierge Service available for smartphones, tablets, and in-room devices.
For a free demonstration of our hotel concierge app, or for a full quote with no hidden charges, contact Pacific Infotech online today, or call us now on +44 20 313 76707.
Why Use LoungeUp eConcierge System from Pacific Infotech?
Fully customised to match your branding and loaded with information unique to your hotel's services and local amenities, our partnership with this powerful customer service application provides your business with a wealth of features, including:
Available Online and as an Installed Application
Multiple Language Options
Full Customer Relationship Management Tools
The LoungeUp application services as a complete CRM platform, with real-time updates on which customers are using your application, when, and how.
One of the most effective all-in-one customer service and management tools on the market, you can also take advantage of an easy-to-use BackOffice interface to manage customer records and send automated messages to guests.
The Fast, Efficient Way to Deliver a Full Range of Hotel Concierge Services
Thanks to Pacific Infotech's partnership with LoungeUp's state-of-the-art hotel application, your guests can instantly access a host of common concierge services, including:
Extended stays and repeat bookings
Interactive Maps and Destination Guides
Providing guests with access to your in-room dining menus, and the ability to order meals from any smartphone, tablet, or other mobile device. Meanwhile, kitchen staff can update and replace menus as and when required.