Interactive
Smart TV Systems

for UK Hotels
Deliver a whole new experience for your guests with a full range of Hotel Smart TV solutions and ongoing support from Pacific Infotech.
The days of hotel guests merely sitting back and passively watching a TV show are long gone. Today, guests demand a fully interactive experience from their in-room entertainment, complete with the option to access hotel services directly through their television.
With full provision and deployment of Smart TV solutions for hotels, plus 24/7 support from Pacific Infotech, your business can offer just that, all with flexible, affordable pricing solutions.
Our iptv solutions for hotels are individually priced based on your needs, including the level of service, type of package required, and the number of Smart TV systems we deploy, support, or upgrade.
For a free demonstration of iptv hotel TV systems, or for a full quote with no hidden charges, contact Pacific Infotech online today, or call us now on 020 313 76707.
Fully Branded Smart TV Solutions for Hotels
Your guests demand nothing but the highest quality from your business, which is why, when you work with us to provide and install new hotel Smart TV solutions, we use only premium quality LCD/LED screens.
Once switched on, all menus and messages can be fully customised to reflect your hotel branding. You'll even have the option to load and display video advertising for guest services, and offer a full information channel with everything guests could want to know about your hotel and the local area.
For more details, or to obtain a free, no-obligation quote, call Pacific Infotech today on 020 313 76707 or contact us online now.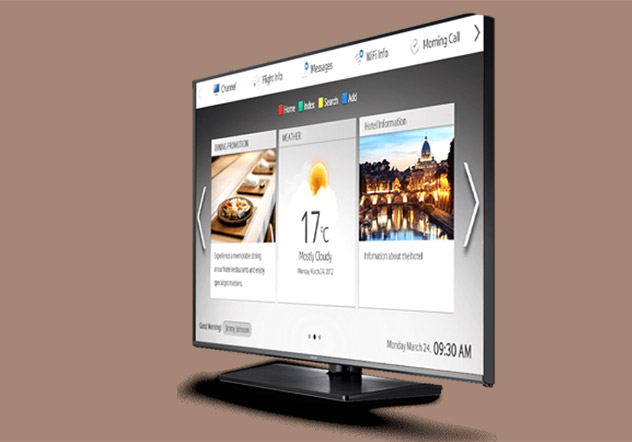 Why Choose Pacific Infotech as Your Hotel's Smart TV Solutions Provider?
Based in London, our hotel IT consultancy works with businesses like yours across the UK, supplying and deploying smart TV solutions from leading technology manufacturers such as Samsung and Philips.
Whether we're upgrading your existing hardware or providing fast, efficient plug & play installations of new displays, we utilise the latest cutting edge video and multimedia technology to help you deliver all of the following to your guests, directly through their in-room Smart TVs.
Online applications
Internet browsing
Access to guest services
Live, catch-up, and On-Demand TV
Video, audio, and multimedia streaming
Information about your hotel and local amenities.
Additional Features of your State-of-the-Art Hospitality TV Package
Using your existing infrastructure, hotel Smart TV services can be delivered via fixed ethernet or Wireless Internet connections, or even a combination of both for greater flexibility and affordability.
You and your guests will also benefit from:
Menu locking
Pre-set volume limitations for guest comfort
Easy remote management of single or multiple displays
24/7/365 remote and onsite support for your hotel's entire interactive Smart TV system.