Providing in-room entertainment for your guests used to be such a simple endeavour, didn't it? A decent sized screen and a handful of freeview channels, and most guests were satisfied. Yet with the rise of smart TVs, portable media devices, and on-demand content, those days are long-gone.
Armed with iPads, smart phones, streaming media and online services available through just about any platform, guests have been conditioned to expect more from digital devices, and that includes your hotel smart TVs.
Fail to meet those guest expectations, and you've likely already figured out the consequences for yourself: Poor reviews, lack of repeat bookings, and yes, the inevitable knock on your overall revenue.
Don't just take our word for it though. Over the past few years, more businesses than ever have invested in upgrading their existing hotel TV solutions for these very reasons. When they do, increasing numbers of them are opting for Samsung's specialist hospitality packages to deliver all the quality, flexibility, and variety that hotel guests expect in today's on-demand age.
Why this particular brand over any other? Here's just a few reasons why the world-renowned manufacturer is fast becoming the number one choice for hotels across the UK.
The Biggest Range of In-Room Entertainment Options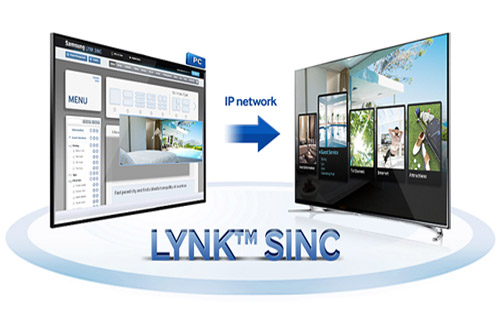 Samsung's acclaimed LYNK SINC 3.0 is a next-generation hotel smart TV solution that is fully compatible with a broad range of live, on-demand and catch-up TV services. It also offers full access to a wealth of on-demand gaming, streaming movies, online apps, and social media platforms like Facebook, Twitter, and Youtube.
In effect, it's the all-in-one solution for putting the biggest variety of news, entertainment, and online services right at your guests' fingertips.
As you'd expect from such a versatile system, LYNK SINC can be fully customised, with bespoke channel lists unique to your hotel, and your choice of which services you make available to guests.
Complete Integration with Your Hotel PMS for Effective Service Delivery
It isn't just media and online services that you can offer guests directly through their Samsung display screen. LYNK SINC is fully compatible with modern Property Management Systems (PMS) and most next-gen eConcierge services, making it making it possible to deliver a host of guest services directly through the display.
You don't need us to tell you how important top-level customer service is to the success of your business. More than the decor of your guest rooms, the available amenities, and even the nightly rate, the kind of customer service guests experience at your hotel can make or break their entire stay.
Samsung's hospitality TV solutions enable your staff to deliver great service faster, simpler, and more efficiently by working with your PMS to offer direct booking, communication with your front desk staff, and other key services.
Effortless Updating Thanks to Samsung LYNK REACH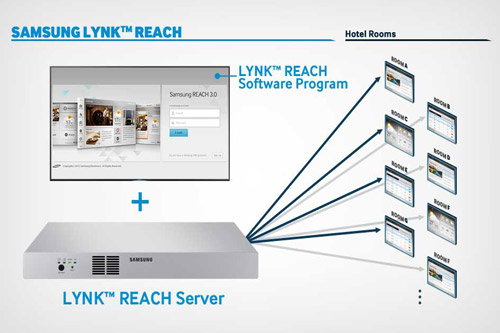 Whilst Samsung LYNK SINC 3.0 certainly does an exceptional job at content management and delivery, it isn't the only one of the brand's products designed to transform the way you deliver your guests' in-room experience.
By combining it with LYNK REACH, you and your staff have a smart, simple solution for dramatically reducing the time, hassle, and expense of manually updating your hotel TV system.
If you already have a smart TV set-up at your hotel, you'll know just what a chore it can be to physically visit each guest room one-by-one for the purposes of carrying out firmware updates or other system upgrades.
LYNK REACH eliminates that entire task by empowering hotel property managers to update every smart TV simultaneously from one single location, ultimately giving them more time to spend on delivering excellent customer service and otherwise contributing to the long-term growth of your business.
With a single Samsung server and software application, staff can not only remote manage upgrades and updates, but also take care of numerous settings, including volume control, channel options, and on screen branding settings.
Minimal Costs and Zero Clutter
As a software based solution, Samsung's systems require nothing more than a LAN cable, single desktop server, and individual display screens to operate successfully. That means no set-top boxes, no unwieldy hardware taking up valuable guest room space, and no masses of networking cabling.
As a result, you not only reduce the costs of delivering in-room entertainment and services, but you also eliminate a lot of the clutter that could otherwise put an unsightly blemish on your otherwise immaculately designed hotel.
Record Installation Time With Minimal Disruptions to Your Day-to-Day Operations
The limited hardware requirements of a Samsung system has another major benefit of course, that being the fact that a trained hotel technology specialist can have your entire new system up and running in no time, with minimal fuss and minimal disruptions.
That means you can continue to deliver exceptional customer service and ensure your guests really enjoy the best possible experience from their stay, all whilst your next-generation smart TV system is being installed.
To find out more about switching to a Samsung hotel TV solution, or for a free demonstration of both Samsung LYNK SINC and LYNK REACH, contact Pacific Infotech online today. Alternatively, call now on 020 313 76707.