Specialists in Hospitality
IT Support
Pacific Infotech are proud to work with hotels across the UK, using our years of experience and up-to-the-minute expertise to help our customers thrive.
Whether it's attracting more guests and repeat bookings, increasing revenues, improving efficiency or simply using technology to deliver remarkable guest experiences, we make your goals our top priority.
To help you achieve those goals, we offer a comprehensive range of innovative, effective hospitality IT solutions, from state-of-the-art Property Management Systems (PMS) to the latest in hotel smart TVs and audio visual solutions, all the way to marketing, web design, and more.
World Class
Technology For Your Business
It isn't just the sheer number of services we provide that makes our bespoke IT solutions so popular with a broad cross-section of British businesses. At Pacific Infotech, we believe that quality always takes precedence over quantity. That's why we've partnered with some of the world's leading names in hotel and business technology to bring you powerful solutions designed to help you succeed.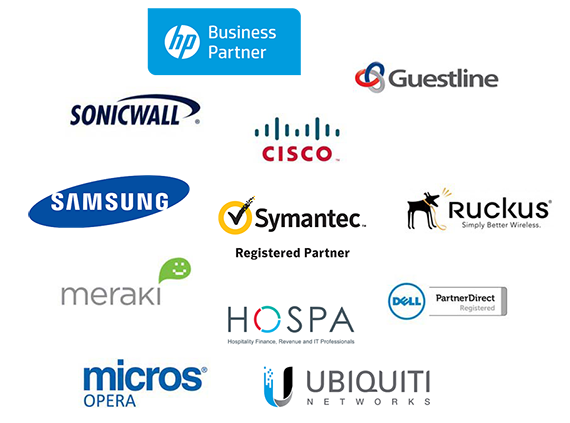 Industry Leading
Technology
Pacific Infotech partner with world-renowned technology brands so that we can put the most effective and efficient tools to use in helping you to overcome challenges and grow your business. Here's just some of the globally recognised brands we work with:
Managed IT
Services London
Your complete one-stop shop for all things technology and IT support.
Managed IT support takes the hassle and hard-work out of maintaining your vital infrastructure. At Pacific, we deliver a range of managed services tailored to suit the unique needs of your business. These include:
Next Generation
Hotel Technology
From server rooms and smart TVs to web design, WiFi and more, complete state-of-the-art technology to improve your guests' experience and ensure repeat bookings, time and time again.
Our hotel technology consultants can not only make expert recommendations on which products will produce the best results, but also install and configure those products with zero disruptions.
As a result, your guests continue a five-star experience with no interruptions, whilst you get the technology you need to make that experience even better.
Testimonials
At Pacific Infotech, we're proud to be recognised as one of the leading suppliers in the provision of cost effective, cutting edge IT support solutions. Don't just take our word for it, here's what our clients are saying about us:
I have had the pleasure of working with Pacific InfoTech on various and extensive IT and Digital Marketing assignment for a considerable number of years…Read More

Director of Hotels & Leisure
Henley Homes

We have a great partnership with Pacific Infotech.
Their dedication to improve our IT environments are evident in all aspects of our work…Read More

Silver Kang
General Affairs Manager

"Pacific Infotech have been there whenever we needed then.
They have always been quick to react to our needs and have consistently delivered a quality service…Read More

Dan Dickinson
IT Director, SACO