Business VOIP Solutions
London
Transform the way your business delivers customer service with feature-rich, hosted IP telephony solutions and 24/7 support from Pacific Infotech's specialist VoIP consultants.
Did you know that delivering first class customer service and significantly improving your internal communications doesn't have to mean making big, dramatic changes nor large financial investments?
Simply switching your existing phone system to a VOIP (Voice over IP) Internet phone solution can greatly enhance the way your staff communicate with existing and potential customers, and with each other.
At Pacific Infotech, we provide fully comprehensive VOIP consultancy for London businesses, including ongoing, round-the-clock support, and the latest, IP telephony solutions incorporating the latest state-of-the-art features.
The costs of your bespoke package are decided on several factors, including:
Number of Direct Dial Ins (DDI)
Number of extensions and channels
Expected monthly call volume.
For a full consultation or free, no-obligation quote, contact us online, or call us now on 020 313 76707.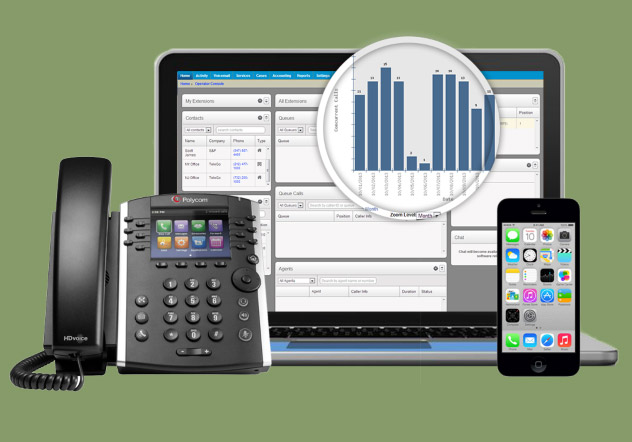 Why Move to Hosted VoIP Solutions for Your Business?
Switch from a traditional telecommunications system to a hosted VoIP solution, and your business will soon enjoy maximum efficiency with minimal monthly spend.
Call today, and you'll also enjoy all of the following:
International calls charged at rates far lower than you'd pay with traditional telephone lines.
Cordless headsets branded with your company logo, ideal for improving your front-of-house presentation
Complete privacy with call blocking and DND status features.
Wireless systems connecting multiple locations
Instant messaging for quick, effective internal communication
Messaging alerts and critical reminders
Multiple Internet Phone Systems Available
Whether you're a small operation or a multi-site nationwide chain, Pacific Infotech's offer a broad range of IP telephony solutions tailored to suit the exact needs of your business.
Greater flexibility and lower prices for small businesses in London, with hunt group technology, IVR, and voice-to-email support.
Each service includes all of the following:
Simple setup of your IVR (Interactive Voice Responsive) technology
Multiple phone numbers, including international codes
State-of-the-art line-hunting for quick call response
Voice-to-email
Call forwarding
24/7 emergency and out-of-hours IT support.
For full VOIP consultancy or for a demonstration of our internet based phone solutions, contact us online today or call now on 020 313 76707.