There once was a time when anyone investing in computer hardware for their new business had one feasible option:
A Microsoft Windows PC.
Sure, Apple and its Mac computers existed, but unless you worked a graphics -orientated role (a designer or video editor for example), the company simply weren't on your radar.
Then, seemingly from nowhere, Apple blew up into one of the biggest companies in the world, and many of us ended up with the companies iPods and iPhones in our pockets.
Today, the chances are that even if you don't own Apple products yourself, it wouldn't take you long to name someone you know who does.  So, with the brand permeating so many areas of our personal life, doesn't it just make sense to choose Apple when buying new desktop machines for our business?
Not necessarily.
Whilst Apple may reign supreme over Microsoft in the consumer market these days, when it comes to business IT, Microsoft more than hold their own. In fact, when Pacific Infotech's business IT experts compared the two brands' suitability for business use, the Bill Gates founded enterprise triumphed over  the company synonymous with Steve Jobs in all but a few key areas.
To help you make the most informed decision possible about your new business technology investment, we've listed below just some of the main areas you need to consider when buying desktop computers for your new startup, and discussed whether it's Apple or Microsoft who prove to be the better option.
Cost
As a new business, it's important to you to get the best possible value for money from your startup budget.
As most already know, Apple iMacs and Macbooks are far more expensive than PCs and laptops running on Windows. The price tag, however, is only part of the equation.
Many will likely tell you that Apple's high costs are justified by their superior quality, that by investing in a Mac, you're investing in hardware that will need far less repairs and upgrades as a Microsoft PC.
For the most part, that's true, but it's also worth noting here that Apple products are not infallible. They do breakdown, do need repairing, and do need professional support when things go seriously wrong.
What's more, the cost of those repairs and support services are often far more expensive than those associated with a PC. It's often the case that the cost of a single PC plus multiple repairs is still less than the price of a single Mac and a single repair, making Microsoft the way forward for businesses who need to keep a close eye on their budget.
Networks and Business Tools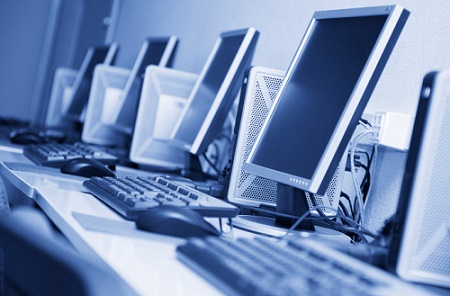 Whilst Microsoft's status as the kings of the consumer technology market may have been superseded by Apple some time around the turn of the century, the company's work in the business IT field has been nothing short of groundbreaking.
In our experience, setting up a network of Windows PCs is far easier and less time consuming than doing the same job with a bank of Macs. This simplicity and efficiency is rivalled only by the sheer range of dedicated business products Microsoft offers.
With their Azure platform leading the way for enterprise level cloud services, Office 365 changing the way individual users work, and the brand's range of Windows Server products earning widespread acclaim, it's hard to dispute that Microsoft really are the most comprehensive and effective approach for business users.
So far then, Microsoft certainly seems like the clear cut winner, but there are a few instances where Apple do emerge victorious over their rivals.
Creative Work

For the longest time, Apple Mac computers have been synonymous with creativity. The go-to brand of choice for designers, illustrators, editors and photographers, Mac's superior graphics and array of impressive software make it a far better choice for those working in the creative industries.
Ultimately then, choosing new computer hardware for your business should be less about brand loyalty and sticking with one company over another, and more about choosing the right tool for the right job.
For servers, networks, and business applications, Microsoft are certainly the way forward. For design and other creative work, an Apple Mac is certainly a worthwhile investment.
For more advice on making the most of your business technology, or to find out more about Pacific Infotech's business IT support services, contact us online today or call now on 020 313 76707.