In this day and age, nobody can dispute the importance of having a reliable and secure solution for backing up your valuable data.
Yet, as a business owner, shopping around for that method can soon turn into a complicated nightmare as you're faced with a wealth of different solutions, each one with its pros, cons, and terminology.
Even once you've determined that Backup as a Service (BaaS Solutions) and Disaster Recovery as a Service (DRaaS Solutions) are the most likely candidates for protecting your precious data, that still leaves more questions than it answers. Namely:
What exactly are BaaS and DRaaS?
How are they different?
Most importantly, which one is best suited to help your business meet your immediate data backup needs while continuing to provide long-term value?
In today's guide, we'll answer all of those questions and more as we outline everything you need to know to make an informed decision about which service is best for you.
Working out whether your business needs Disaster Recovery as a Service, Data Backup as a Service, or a combination of both doesn't have to be the headache it first seems. Once you understand a few key differences, you can make a smart decision about the best way to protect your business from downtime.
What is Backup As a Service (BaaS)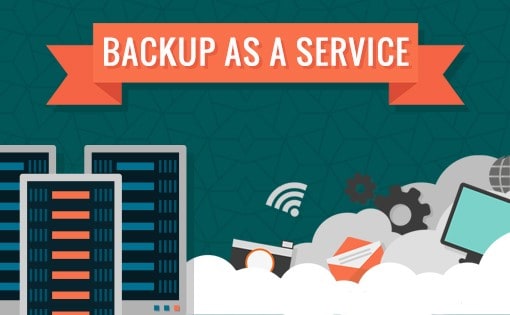 With Backup as a Service (BaaS), every file, folder, and the repository is backed up to a secure data centre located off-site.
This is important, as even if something were to happen to your primary physical location, your data is still safe, secure, and retrievable elsewhere.
BaaS is typically delivered, managed, and maintained by a third-party company known as an MSP (Managed Service Provider). They take care of everything from ensuring your data is backed up in the first place to restoring it if it's needed. This saves your in-house IT department precious time and resources that can then be better directed towards revenue-generation and business-growth projects.
Your Responsibilities and Essential Requirements
Although your MSP will take care of almost everything, your business still needs to ensure that a few key things are in place for BaaS to work.
First, you need to ensure that you have an existing onsite backup process in place, as cloud backups can't be configured without them.
Next, you need to ensure that on-site infrastructure is up and running. Your MSP can't restore data to an offline infrastructure.
Finally, you need a high-speed internet connection to ensure effective backup and restoration.
The benefits of BaaS are plentiful. Businesses choose this option because it's an easy, convenient, and affordable way to ensure the safety of your valuable data.
What Is Disaster Recovery as a Service (DRaaS)?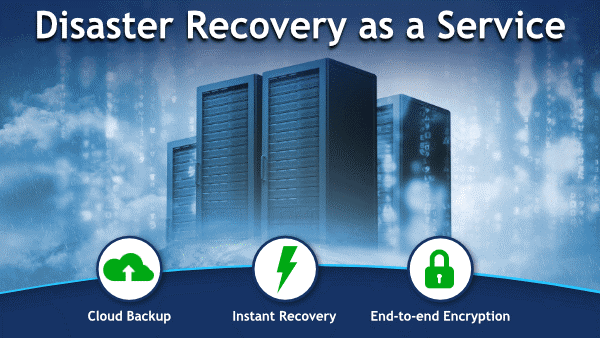 Disaster Recovery as a Service is a comprehensive solution to help organisations safeguard against the consequences of major disasters.
More than merely backing up your files, DRaaS ensures that, in the event of a severe downtime-inducing disaster, your business can get your mission-critical services up and running again as soon as possible.
This involves not only creating a complete backup of your entire infrastructure but devising fail-proof failover strategies to ensure seamless business continuity in the event of an emergency.
Any good DRaaS should provide you with a fully tailored solution that delivers all of the following:
Fully tested failover strategiesHigh Recovery Point Objective (RPO) availabilityClearly-defined Recovery Time Objective (RTO)
BaaS vs DRaaS – What are the Key Differences?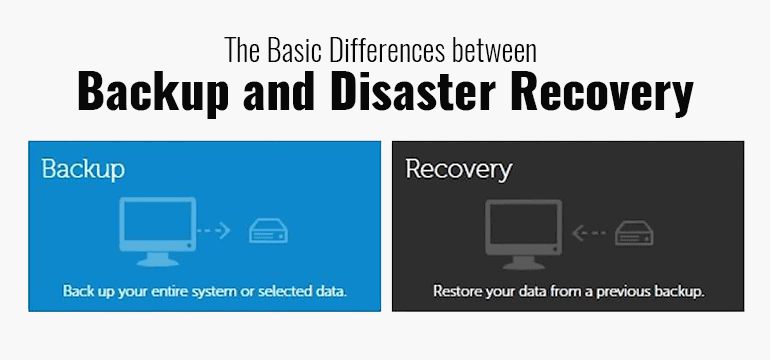 If you've read this far and still aren't sure about the key differences between BaaS and DRaaS, let's break it down:
Primary Purpose:
Backup as a Service providers makes a copy of your onsite backup and stores it in an off-site location so that files and folders can be restored in the event of data loss.
DRaaS backs up your entire infrastructure and comes with a bespoke, detailed strategy to get you up and running again in the event of major downtime.
Business Continuity
In the event of a disaster, DRaaS can restore your mission-critical services such as essential web applications and necessary software, helping you maintain a business-as-usual approach. In contrast, BaaS can only restore your data to your operational on-site servers.
Backup as a Service Pricing
BaaS comes with a lower upfront fee but does mean that you may find yourself paying more in the long run if your infrastructure experiences downtime.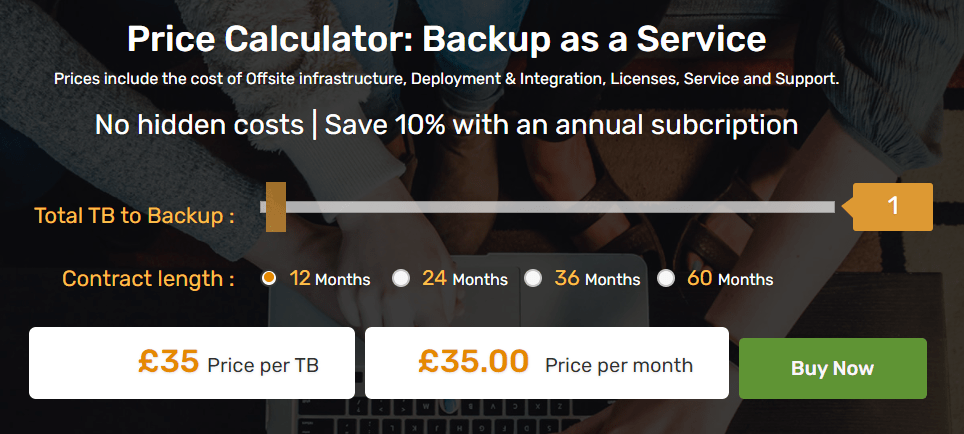 Our simple Baas cost-calculator provides an accurate price of BaaS with no hidden charges or nasty surprises. Order Online Now!
Disaster Recovery as a Service Pricing
DRaaS Pricing more in the short term but provides greater long-term protection which could end up saving your business thousands, if not millions.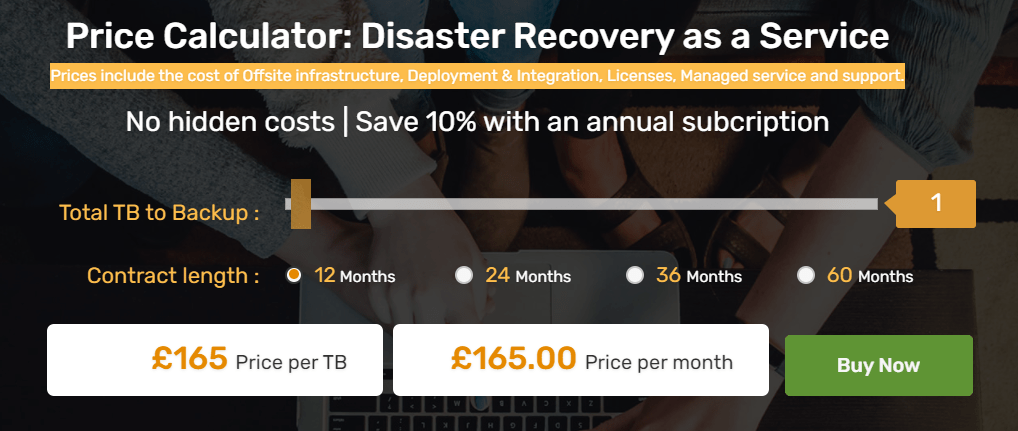 Find out the Cost of Disaster Recovery as a Service and order online. Also, check the service highlights and a simple deployment process. Order Online Now.
BaaS or DRaaS – Which is Best For Your Business?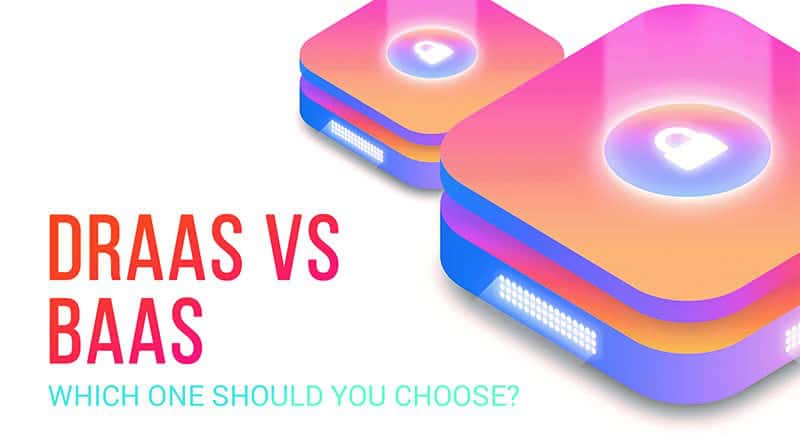 So far, so good, but now we come to the ultimate question:
Is BaaS or DRaaS best for your business?
Choose BaaS if:
Several hours of downtime isn't going to make a significant impact on your business
Your IT department is capable of restoring your infrastructure in the case of a disaster
Your onsite backups consist of a large amount of data which doesn't often change, if at all.
Choose DRaaS if:
The consequences of downtime could be devastating for your business and especially for your customers.
The cost of investing in Disaster recovery solutions is less than the losses you'd suffer in the event of downtime
Your data often changes, and having the most recent version of any dataset is vital to your operation.
Choose Both BaaS and DRaaS if:
You need both fast restoration of mission-critical services and the security of having archival data fully backed up.
You need your IT team to spend less time managing disaster recovery and more time working on business growth.
Still not sure which solution is right for you? Explore your options today with Pacific Infotech, London's leading IT consultants specialising in world-class business continuity. Contact us online today or call now on 0203 137 6707.