There's no denying that as a new business at the height of the digital revolution, data is going to play a significant part in your long-term success.
Even if you operate primarily as an offline business, your customer records, accounts, and even your marketing efforts will require at least some level of digitally stored data. As such, in an age when GDPR reigns supreme and end-users are both more data-savvy and protective about what happens to the information you hold about them, data backup is not something that even the smallest of new startups can afford to ignore.
Yet ignore it; many of them do. Swept up in the excitement of launching new products and getting the whole company off the ground, coming up with a data backup plan can easily be forgotten about.
That's where we come in.
Today, we explain why Backup as a Service (BaaS) may be one of the essential tools used by your business. What's more, we'll also provide you with a Plain English breakdown of exactly what BaaS is, how it can help you, and the essential requirements you'll need your start-up to meet for BaaS solutions to be effective.
If you're brand new to the world of working with data, don't worry, we've got you covered. In this complete guide to Backup as a Service, you'll learn everything you need to know to put it to work for your business, including a look at
the differences between BaaS and DRaaS
and, of course, how to get BaaS at the most affordable pricing.
What is Backup as a Service (BaaS)?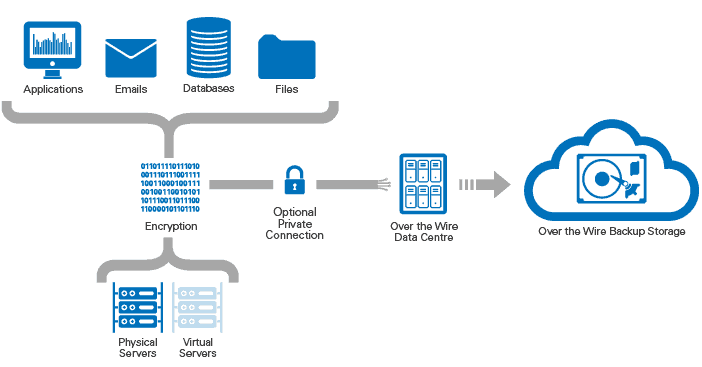 BaaS Business Solution is a data backup solution that involves making a copy of your existing on-site backups and storing them on a secure server located off-site.
This is typically carried out by a third-party company known as a Managed Service Provider (MSP), who charge a fee for transferring your backup from your server to theirs, maintaining those servers so that your data is always available, and restoring your backed-up data when necessary.
MSP's base their fees on several factors, including the amount of data backed up, number of users, and bandwidth requirements. As you can imagine, the more you use their service, the more it costs.
BaaS Essential Requirements
Before you can put BaaS to work for your brand, there are few key things you'll need to have in place.
Onsite backups – BaaS works by cloning your physical, onsite backup and transferring it to the cloud, so you'll need to ensure that the onsite backups are in place before you can begin. Creating an onsite backup can be as simple as copying your data to an external hard drive regularly.
Operational infrastructure – In the event of data loss, your MSP can restore data to onsite servers. In other words, if your entire infrastructure goes down, you can still backup from the offsite location, only if the infrastructure was also backing up as part of a backup process. However, downtime of mission-critical services is certain.
High-Speed Internet Connection – Essential for transferring your data to and from the cloud without any hiccups.
The Benefits of BaaS for Your Startup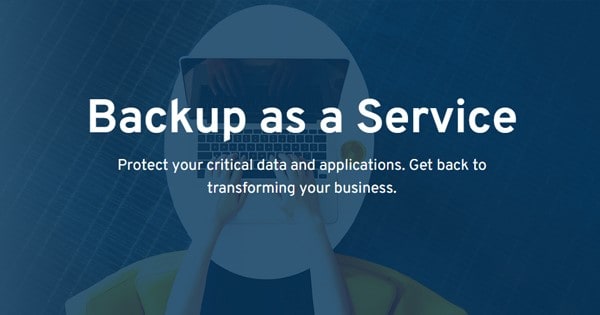 Still not sure why your new venture needs BaaS? Here are a few key benefits:
Scalability – Use as much or as little as you need and only ever pay for what you use with a PAYG model
Effortless data recovery
Focus on what matters – Free up your IT department's time and resources to focus on business-growth projects
Reliability – you know your data is in safe hands
Why Choose BaaS From Pacific Infotech?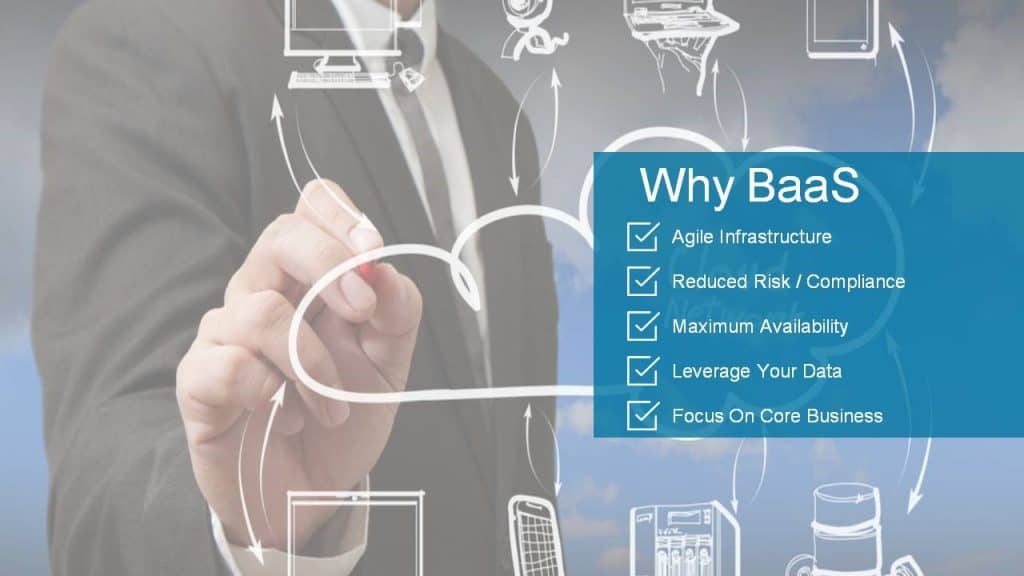 Fully managed Service
No two startups are ever the same, which is why no run-of-mill, off-the-shelf solution will cut it when it comes to protecting your business.
At Pacific, our Backup as a Service providers or business continuity specialists works with you to design a fully bespoke service tailored to your needs.
Round-The-Clock Support
We strive to deliver a problem-free service day-in, day-out, but if there's something you don't think is right, you can get hold of our UK-based customer support team 24/7.
World-Class Recovery
We put the world's leading data backup technology to work for your business, providing best-in-class security and unparalleled ease of use.
At Pacific, we're proud to be fully certified and accredited by dozens of industry-leading technology brands so that you can enjoy the peace of mind that comes from knowing your business in the safe, capable hands of qualified experts.
Set-it-and-Forget It
Once your data backup service is in place, you don't need to do a thing. Let it run in the background while you focus on growing your business.
Block-Level Incremental
To keep costs and operational times at a minimum, we make one master backup of your files and only back them up again if you make changes to them.
Anywhere, Any Time Access
With our next-generation cloud platform, you have the complete freedom and flexibility to manage your data backups and restorations; however you see fit.
Ready to learn how affordable BaaS can be? Use our BaaS Pricing Calculator to get your comprehensive quote, including all of the following:
The cost of running our offsite Infrastructure
Deployment and Integration
Licenses
Dedicated Account manager for email and phone Support
What's more, when you subscribe to BaaS for 12 months or more, we'll give you a further
10% off.
BaaS Cost Calculator
Find out the Cost of Backup as a Service and order online. Also, check the service highlights and a simple deployment process. Order Online Now.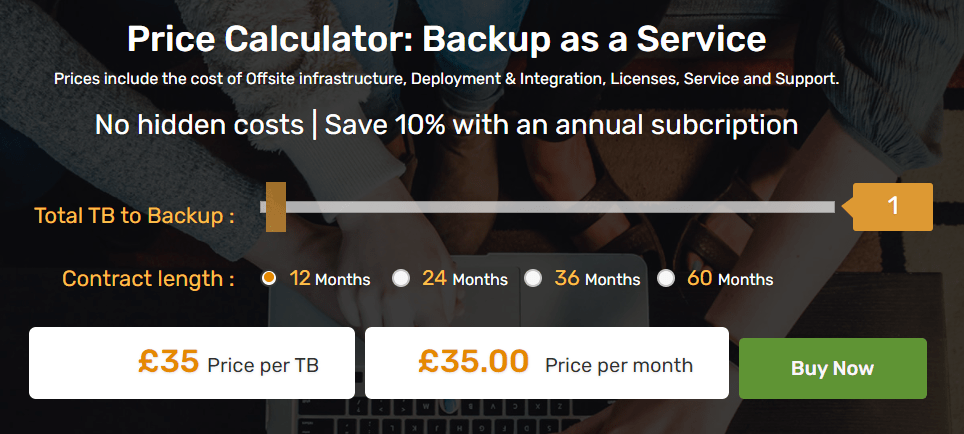 DRaaS – When BaaS Isn't Enough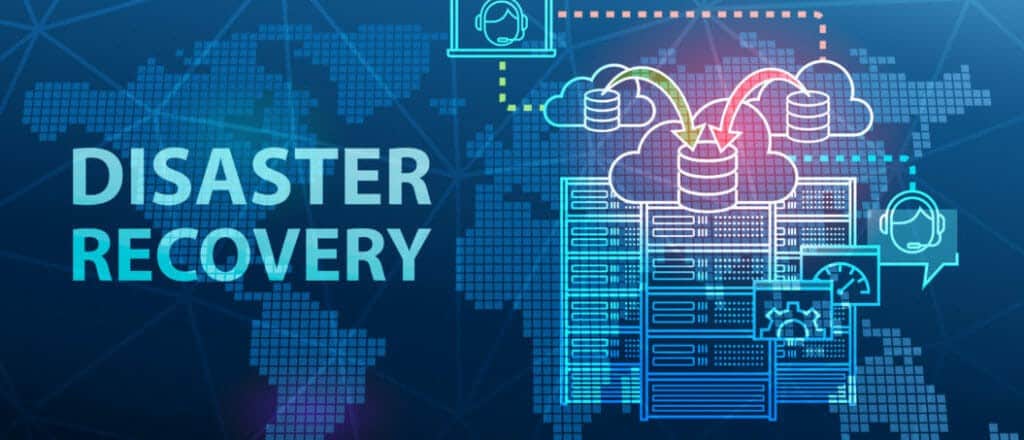 Backing up your data is one thing, but what happens when your entire infrastructure goes down, taking your mission-critical services with it?
In most businesses, that's when Disaster Recovery as a Service kicks in. More than just a backup solution, our DRaaS solutions include a fail-proof failover strategy to help get your business back in action as quickly as possible following a hardware failure, network outage, or data breach.
DRaaS cost Calculator
Find out the Cost of Disaster Recovery as a Service and order online. Also, check the service highlights and a simple deployment process. Order Online Now.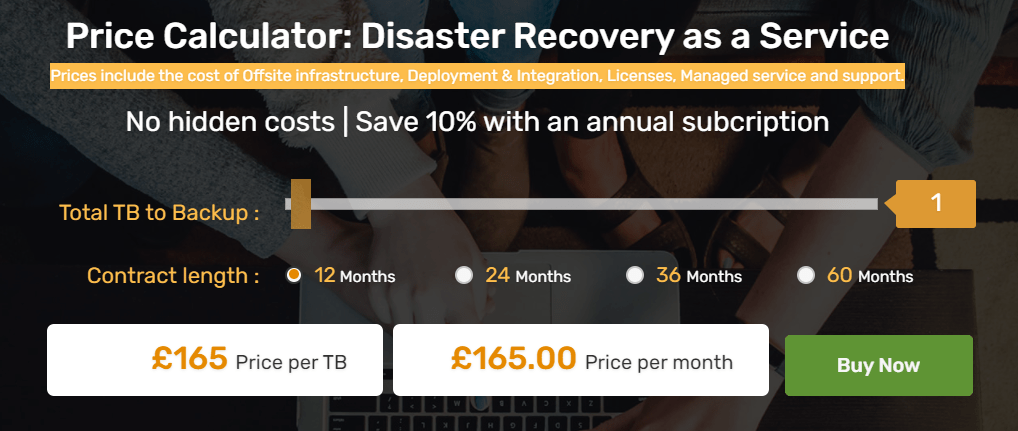 To find out more about BaaS or DRaaS, talk to Pacific Infotech today. Our London IT consultants specialise in BaaS Business Solutions designed to keep your startup thriving no matter what happens. Contact us online today, or call now on 0203 137 6707.