Windows Server
Failover Clustering
Solid, Reliable Virtual Machine Hosting with Windows server failover clustering and Hyper-V management from Pacific Infotech.
As flexible and adaptable as it is robust, resilient and secure, Windows server virtualisation is transforming the way businesses like yours make use your physical hardware.
Yet did you know that you can get even more value from your virtualisation services with Windows server failover clustering and effective Hyper-V management from Pacific Infotech?
Below, our London IT consultants explain how your business can start enjoying improved efficiency from your Windows virtual server with Hyper-V failover clustering.
High Availability Clusters
With High Availability Clustering, multiple physical machines work in unison to produce failover and redundancy for your virtual machines (VMs) with minimal server downtime.
An effective way to get more from your VMs without investing in more physical servers, high availability clusters improve performance by assigning each new VM to the physical server currently being used the least, putting less of a burden on your hardware and allowing for a faster, more efficient virtual machine.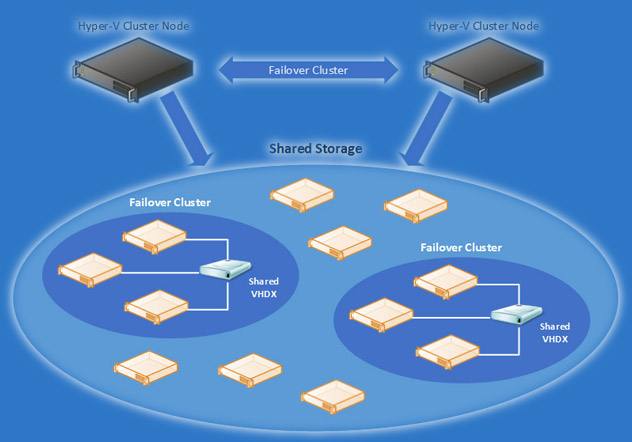 Hyper-V Failover Clustering
A simple yet highly effective Hyper-V solution, creating clusters with your Windows hypervisor software involves assigning a failover cluster role to each server node (physical machine), before creating a Hyper-V failover cluster and adding individual server nodes to it.
To do this requires at least four Network Interface Cards (NICs) for each server. At a minimum, Pacific Infotech's Hyper-V management specialists recommend:
Local Area Network (LAN) connection
Cluster Heartbeat
Live Migration
Shared Storage Network.
That said, most Hyper-V solutions usually include additional NICs, including ones dedicated to server management and for use of a Microsoft Multipath I/O (MPIO) to optimise their storage space.
Microsoft High Availability Solutions with Shared Storage
Having successfully created our windows server failover clustering, the next step in the process is to create a means for multiple virtual machines to access the same shared storage resources.
To do this, our experts will establish a Clustered Shared Volume (CSV) within your infrastructure.
This essential involves using multiple disks as a shared pool, which each server node can access in much the same way that it would a logical disk within your system.
A vital component of all successful Microsoft high availability solutions, CSVs can be achieved using multiple configurations, though the team involved in your Hyper-V failover clustering project will usually recommend one of the following:
Both options have their own pros and cons, with the latter a particularly apt choice for flexible scale-out storage, though whichever one we use for your system, the end result will essentially be the same:
Connect all server nodes in the cluster to the storage volume at the same time. By doing so, you create a single shared point of storage for your virtual machines, so that even if one node fails, another one in the cluster picks up the slack, allowing you to keep on working with no downtime, no disruptions, and no data loss.
Hyper-V Failover Clustering and Microsoft High Availability Solutions from Pacific Infotech
Having fully created and configured your shared storage, Pacific Infotech's server virtualisation team can also help with complete Hyper-V migration, moving your virtual machines into your new Windows server failover cluster to create a high availability and improve the performance of your virtual network.
Doing so takes our Microsoft certified specialists a mere matter of minutes, so you can continue to run your VMs and remain fully operational, even whilst our team are carrying out essential migration work.
To find out more about Windows server failover clustering, or about investing in solid, reliable virtual machine hosting from Pacific Infotech, contact us online today or call now on 020 313 76707.