Microsoft Hyper-V
Virtualisation
Cut the costs of powering your IT infrastructure and eliminate downtime with affordable, effective virtualisation services from your hotel IT specialists at Pacific InfoTech
As with many modern hotels in today's technology-driven society, server virtualisation likely already plays a predominant role in your IT infrastructure.
If it doesn't, there's never been a better time to migrate from traditional software and hardware solutions to Microsoft Hyper-V technology. By doing so, you could dramatically reduce the amount you spend on maintaining your mission-critical technology, whilst at the same time improving efficiency throughout your hotel's workforce.
At Pacific Infotech, we provide:
Server virtualisation consulting
Deployment of new Windows Server Hyper-V systems
24/7 emergency IT support to ensure your existing system delivers peak performance right around the clock.
To find out more about cutting IT spend and improving efficiency with Microsoft Hyper-V technology, talk to Pacific Infotech today.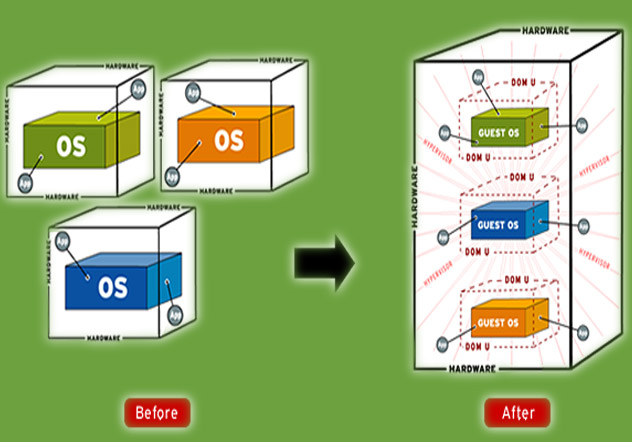 What is Server Virtualisation?
When we talk about virtualisation, we're essentially talking about the very heart of modern business IT.
A term dating all the way back to the 1960s, virtualisation as a practice didn't fully take off until the personal computer boom of the late '90s, when companies began looking for a way to capitalise on the rapid growth of information technology without overspending.
The solution was simple: Move away from large, expensive, physical hardware which took up sizeable office space and cost a premium to maintain, and instead use a virtual IT environment, complete with its own OS (Operating System), applications, and file storage, all running from one or more physical machines.
To make all of this possible, hypervisor software was created to effectively manage the distribution of hardware resources to each virtual machine.
Today, Microsoft's Hyper-V Server remains the industry leader in virtualisation solutions, and it's this particular platform which our hotel IT consultants recommend to help your business make the most of your technology.
Why Use Microsoft Hyper-V Virtualisation?
It could be that you already own a version of this powerful hypervisor solution. Since 2008, Microsoft Windows Server Hyper-V technology has been a vital component of four major server releases, including:
Windows Server 2012 R2
Windows Server 2012
Windows Server 2008 R2
Windows Server 2008.
At Pacific Infotech, we can provide full configuration, deployment, and troubleshooting support for all four versions as well as the upcoming Server 2016 platform.
Alternatively, we can also work with you to migrate your existing server infrastructure to the stand-alone Microsoft Hyper-V Server. This is a hybrid hypervisor which acts as an alternative to the standard Windows Server, albeit one stripped of everything except its virtualisation features to create a lightweight platform that is both easier to maintain, and more secure, than its full server counterpart.
We can also create a HyperV cluster with multiple physical server nodes and centralized storage on a SAN to give you a more robust, scalable and resilient Server Platform where your virtual machines will almost never need to shut down owing to hardware issues as they would virtually float within the cluster, moving from one physical node to the order when needed.
To read more on our HyperV clustering solutions, please click here.

Data Backups and Disaster Recovery for Windows Servers with Hyper-V
How can Pacific InfoTech Help with Your Windows Server Virtualisation?
When you work with us, our Microsoft certified virtualisation specialists will carry out a comprehensive review of your current infrastructure before recommending the most effective solution for maximum efficiency at minimum cost.
From there, our experts will set about transforming your infrastructure using the latest virtualisation technology, all on a schedule that works for you, ultimately reducing the impact on your day to day operations.
Make the move to Microsoft Hyper-V virtualisation with Pacific Infotech today. Call us now for a free consultation and no obligation quote.