We're big fans of Microsoft's Hyper-V technology here at Pacific Infotech. More specifically, we're big fans of the way hyper-v virtualisation can help businesses to significantly reduce the costs of their IT infrastructure whilst at the same time enjoying greater reliability than they ever could from physical hardware.
So you'll likely understand why we frequently recommend this next-generation solution as a must for businesses who are serious about generating a greater return on their investment in technology.
What you may not understand -at least not yet- is why Microsoft Hyper-V technology can be such a powerful tool for modern enterprises in today's digitally-driven economy, how it works, and what a difference it could make to your business.
That's where today's article comes in. Here, we explain everything you ever wanted to know about Hyper-V, and how your business can use it to do more for less.
Virtualisation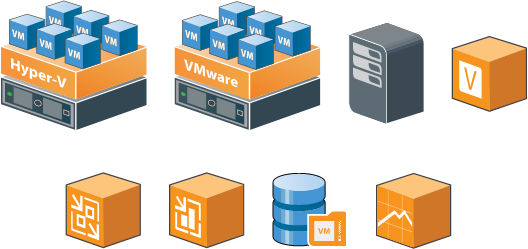 Before we begin talking about Hyper-v virtualisation, it's going to be helpful if we understand a little bit about virtualisation itself.
The concept itself dates back all the way to the early 1960s, though it wasn't until the modern computer boom that came about in the latter part of the 1990s that virtualisation as we know it today began to find its role in the modern business.
Companies were beginning to see that whilst the type and volume of day-to-day office tasks they had to carry out remained the same, their physical computers were growing and evolving. As such, when it came to time invest in new hardware, those businesses were forced to spend more on resources that they didn't actually need.
Server virtualisation essentially solves that problem by enabling those companies to run virtual versions of their entire IT set-up, including the use of multiple operating systems, storage for each end-user, and end-user applications. Hypervisor software is then used to distribute hardware resources across the multiple machines, allowing for increased performance and reliability.
Introducing Microsoft Hyper-V Technology
As the '90s gave way to the early 2000s, Microsoft took note of the gradual shift towards virtualisation in the corporate environment, and began working on their own platform to help users enjoy greater levels of efficiency and reliability from their servers.
The result was Hyper-V, which was first released in 2008, with subsequent versions being incorporated into each new edition of Windows Server.
Today, Hyper-V remains a key and popular feature of Windows server, though it also exists as its own stand-alone product focussed solely on virtualisation.
Known as Microsoft Hyper-V Server, this version removes anything not vital to virtualisation and end-use, making for a more compact server. As a result, companies using Microsoft Hyper-V server enjoy not only improved performance, but also the benefit of having to spend less time on server maintenance.
Which Version is Right For My Business?
For most small and medium-sized businesses, Pacific Infotech's server virtualisation team are likely to recommend the stand-alone product, thanks to its lower running costs and minimal maintenance.
That said, for instances where you're going to be using your technology for more than just server virtualisation, or for those businesses already operating the latest versions of Windows Server, activating Hyper-V on those servers is likely to prove the better option.
How Does it Work?
The technology itself is controlled by a simple user-interface known as Hyper-V Manager. Through this platform, administrators have a complete array of tools to add and remove virtual machines, as well as to modify existing ones.
Your IT consultant can provide full training on how to operate Hyper-V manager prior to installation, so that you, or your in-house specialist, can be fully equipped to use it once virtualisation is in place in your company.
What Do I Need to Know About Licensing?
If you opt for the Hyper-V Server as a standalone product, you do not need an operating system license to run the server, but you will need a license for any Windows operating systems that you install on your virtual machines. With the Hyper-V software running on your standard Windows Server however, the version of your server will determine how many virtual machines you can run on one single Windows license.
Still not sure about making the move to Microsoft Hyper-V technology? Looking for more advice on how to make the most of your business' servers? Talk to the server virtualisation specialists at Pacific Infotech today. Contact us online to book your free consultation, or call now on 020 313 76707.