Microsoft Exchange Server Support
and Consulting
Improve your business communications thanks Microsoft exchange support from Pacific Infotech's hotel IT specialists.
Bespoke Microsoft Exchange Server Support Services
Whether you're thinking of migrating your existing email system to a cloud-hosted Exchange solution, need regular pro-active maintenance to keep your existing email server performing at its best, or simply need help in a hurry to fix a critical problem you're facing right now, our hotel IT consultants are here to help.
Offering ad-hoc Microsoft hosted Exchange Support to resolve those email emergencies, as well as long-term, preventative maintenance contracts, all of our services are fully tailored to suit the exact needs of your hotel, your staff, and your existing email system.
Need emergency assistance with your email or want to discuss partnering with Pacific Infotech as your new long-term Microsoft Exchange support provider? Contact us today.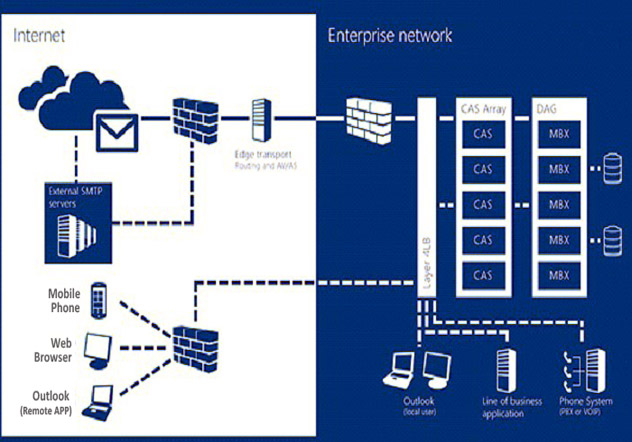 Complete Microsoft Exchange Project Management
With over a decade's experience in providing cost-effective Exchange email solutions for UK hotels, Pacific Infotech are able to use our expertise in carrying out a full range of services, including::
Microsoft Exchange Migration
Full design, provisioning, and deployment of new Exchange systems.
Updates and Upgrades
Reconfiguration of existing systems.
To discuss your Microsoft Exchange deployment or migration requirements, talk to Pacific Infotech today.
Contact Us
Cost-Effective Email Support Contracts
As a successful modern hotel, you don't need us to tell you how invaluable your current email server is. Critical to your communication with regular guests, potential new customers, and suppliers alike, your email system needs ongoing maintenance and regular monitoring to ensure that your server remains free from:
Spam
Malware and viruses
Hardware failures.
With comprehensive Microsoft hosted exchange support from Pacific Infotech, you're guaranteed just that: secure, reliable email services powered by cutting-edge cloud technology.
As part of your ongoing support contract, you'll not only receive round-the-clock emergency support (including evenings, weekends, and bank holidays), but also all of the following:
24/7 monitoring
Rapid response to all alerts
System configuration support
Installation of all recommended Exchange upgrades and patches
Consultation and advice on configuring the best possible set-up for your hotel.
Round-the-Clock Monitoring for Your Peace of Mind
Guaranteed Rapid Response for Both Remote and Onsite Support
Complete Support for Locally Hosted and Remote Servers
Whether you need immediate assistance with your email, or simply want to discuss your options for ongoing Microsoft Exchange server support, contact us online today or call now on 020 313 76707.